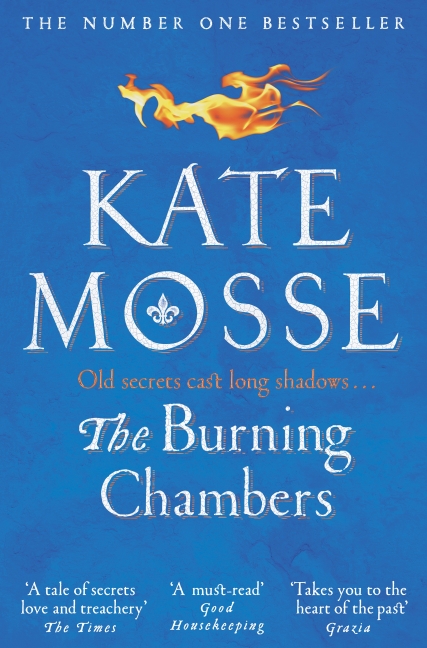 The Burning Chambers
The Burning Chambers
Kate Mosse
Price: £8.99
On Sale: 7 March 2019
About the Book
Bringing sixteenth-century Languedoc vividly to life, Kate Mosse's The Burning Chambers is a gripping story of love and betrayal, mysteries and secrets; of war and adventure, conspiracies and divided loyalties . . .
Carcassonne 1562. Nineteen-year-old Minou Joubert receives an anonymous letter at her father's bookshop. Sealed with a distinctive family crest, it contains just five words:
SHE KNOWS THAT YOU LIVE.
But before Minou can decipher the mysterious message, a chance encounter with a young Huguenot convert, Piet Reydon, changes her destiny forever. For Piet has a dangerous mission of his own, and he will need Minou's help if he is to get out of La Cité alive . . .
A thrilling adventure, and a heart-breaking love story, The Burning Chambers is a historical novel of pace, excitement, conspiracy and danger like no other . . .
Author
Kate Mosse is an award-winning novelist, playwright, essayist and non-fiction writer, the author of eight novels and short story collections, including the multimillion-selling Languedoc Trilogy, The Burning Chambers Series and number one bestselling Gothic fiction The Winter Ghosts and The Taxidermist's Daughter. Her books have been translated into thirty-seven languages and published in more than forty countries. The Founder Director of the Women's Prize for Fiction, she is the Founder of the global Woman In History campaign.
Reviews
Mosse's fans will relish this tale of secrets, love and treachery - The Times
Another of Mosse's immersive dramas, which takes you to the heart of the past - Book of the Week, Grazia
Mosse's narrative lyricism, beautifully drawn female characters and deft journey from the past to the present day are a cut above - Scotland on Sunday
Rich with historical detail, as you'd expect from Mosse, but it's Minou, the fiery heroine, who makes this a must-read - Book of the Month, Good Housekeeping
An irresistible read - Prima
Impressively bold and ambitious, it features betrayals, broken friendship, family secrets and the horrors of fanaticism. Fans will love it - Daily Mail
Transporting readers to 16th-century Languedoc where, against a backdrop of simmering sectarian tensions, 19-year-old Minou receives a mysterious message at her father's bookshop. Gripping, complex and intensely atmospheric. - Mail on Sunday
The Burning Chambers is a tour de force, a compelling adventure that views the past with insight, compassion and humour, and reminds us of the variety of women's voices so often forgotten in the official accounts. - Observer
Mosse is a master storyteller, balancing thrilling suspense with complex characters and a thoughtful exploration of a fascinating time in history. Her heroine Minou is a pleasure to root for: clever, loving, down-to-earth and courageous! - Madeline Miller, author of The Song of Achilles and Circe
This is historical fiction to devour. Nobody does it like Kate Mosse - Anthony Horowitz
First-rate cloak and dagger excitement—who knew the religious wars between Catholics and Huguenots in sixteenth century France could be so riveting to modern audiences? Kate Mosse captures the details of life in the Languedoc region of France, famed for its beauty, but hiding many secrets, in this masterful novel - Margaret George, New York Times bestselling author of The Confessions of Young Nero
Mosse does what good popular historical novelists do best - make the past enticingly otherworldly, while also claiming it as our own - Independent
A powerful storyteller with an abundant imagination - Daily Telegraph
Oh, what a glorious novel. A masterly tour of history; a rapturous romance; and — best of all — a breathless thriller, alive with treachery, with danger, with atmosphere, with beauty. This book will transport you. Kate Mosse is that rarest of writers: a storyteller who breathes fresh life into vanished worlds - A. J. Finn, author of The Woman in the Window
Product Details
ISBN: 9781509806850
Published: 7 March 2019
608 Pages